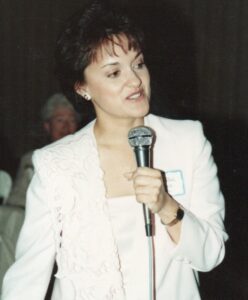 Lecture Feedback
Since 1984 I have had the honor and pleasure of speaking to thousands of people, of all ages, on injury prevention.  My favorite topic and expertise is "driving safety." It's an eye-opening talk and it's wonderful to hear and see the feedback, especially if my talks made a difference to the person writing. 
Below are some of the very nice comments I've received through the years to date…
(August 24, 2022)
I had the pleasure of delivering my "safe driving" presentation at the evening meeting of the Casa de Oro Optimist group in the City of La Mesa.  The person who invited me heard me speak to a Lions group a few weeks prior. Here is a very nice comment following my talk:
"A few days ago, our Casa de Oro Optimist group invited Monica Zech to do a PowerPoint presentation about "safe driving." It was fabulous! What a wonderful presentation! She was precise, to the point, and injected many personal experiences and tragedies along with statistics and facts.  Several people after our meeting told me they would talk to their children and grandchildren about driving and their cellphones, driving under the influence, and driving with the sole purpose of driving – nothing more! Several people commented to me how wonderful it was and thanked me for finding her.
I highly recommend Monica and her presentation to any group that needs a guest speaker.  Who knows how many lives this woman can and has saved?"
Coleen Owens                                                                                                                        Casa de Oro Optimist    
-0-
(May 19, 2022)
Today I had the extreme honor and pleasure of speaking to the senior class, of over 300 students, at La Jolla High School! I spoke on Driving Safety on behalf of myself & MADD. "Thank you" for all your wonderful compliments and hugs following my presentation. I feel so blessed to have made such an impact on these students. Have a safe and fun prom on Friday evening. Congratulations to the Class of 2022 – Praying you have an amazing future!
Note: When I gathered my presentation equipment to leave, about 20-30 minutes later, Ms. Hutchins, who invited me to speak, walked with me back to the entrance to leave. Along the way, a teacher came out of his classroom and stopped me to say, "THANK YOU! That his students were all talking raving about my presentation, how great it was, and that it was very powerful. He thanked me again for coming to speak to them! This is why I love speaking, especially to students!
*Yes, I am available to speak to your class, group, company, or Military Safety Stand-down for those who have asked. Please send your request to my email, monica@monicazech.com, and I'll respond.
(Lecture break due to Covid Conditions)
(November 17, 2020)
Following a virtual presentation of my Safe Driving Talk to Grossmont College Students enrolled in the OPT – Office Professional Training – I quickly received the following two comments:
Good Morning Monica,
First, thank you for bringing safe driving to the attention of many people. I went to the "every 15 minutes" with my kids when they were getting their license, and the films bring me anxiety worrying about their safety. It surprised me yesterday when I saw a friend's collision on the screen. I vividly remember that morning and we were all worried. It very well could be that she was texting, but that is also a very dangerous onramp due to the Alpine grade and slow big rigs. She was very lucky to survive and has fully recovered.
Thank you for participating in the OPT program. I appreciate people like yourself who take the time to make a difference. Your passion is very evident.
Kindly,
T. Gillette
OPT Student, Grossmont College
-0-
Hi Monica,
Thank you for your dynamic and impactful presentations to our class at Grossmont! You truly made a difference in my view of safety in traffic. You and I share some similar experiences with car accidents, whiplash, and long-term effects. Thank you again for bringing your safety message!
V. Ardoin
Energetic and Experienced Real Estate Administrator – San Diego County, California
United States
(Note: She mentioned presentations – I first spoke to them about Public Speaking, then on Driving Safety.)
-0-
(November 23, 2019)
Company Safe Driving Presentation for St. Madeleine Sophie's Center.  Today I had the pleasure of delivering my safe driving talk to about 150 of their amazing employees. I'm always excited to pass along ways we can improve our driving skills and reduce the risk factor of being involved in a collision. CEO Debra Emerson, who stayed for the one-and-a-half-hour session at the close, said to her employees that this was the best safety stand-down they've ever had.  Wow, I was very honored to hear her words of praise and feel very blessed!  Thank you for inviting me to speak and for all the important work you provide in our community.
-0-
(Friday, November 22) – Safety Stand-down North Island – Today I had the extreme pleasure of speaking to personnel at North Island's Lowry Theater for a Holiday Safety Stand-Down. I spoke on "driving safety" at two separate sessions, and the 1,600-seat theater was packed for both sessions. Thank you for all the great compliments and hugs! Happy & safe holidays – GOD bless you for your service!
Additional comments came through email and Facebook – I've added them below:
Facebook Message
I really enjoyed your presentation today at North Island!
D. DeBroux – Aircraft Electrician
-0-
Hello,
Thank you for speaking at our Safety Standdown today! It was very interesting and educational. Thanks to you I will be a more cautious driver.
Hope to see you in six months.
Thanks again,
J.Tavarez
Machinist
FRCSW
-0-
Just wanted to Thank You! I was in attendance last week @NI(North Island), BEST Ever Safe Driving in my 40+ years in DoD and Ca Driver.    Happy Thanksgiving to you and yours, and may God Bless You.
C. Krolik
-0-
Good Morning,
I have been approached multiple times in regards to your presentation (on November 22), and the general consensus is, that people loved it! I have heard nothing but positive things. I would not mind at all if you used me as a reference I would be honored if you did.
Esteban Perez Jr CIV NI, 6213 – (Safety Coordinator for this event)
-0-
(August 23, 2019) – Today, I again had the great honor of delivering my "Stay Alert-Stay Alive" safe driving talk to the Military, this time to the Navy's Third Fleet in Point Loma. The Commander came up after my talk and in thanking me for speaking, said "it was the best driving safety stand-down talk he had ever seen in all his years in the military!" Wow-what a wonderful compliment – thank you!  He then emailed a formal thank you below.   Always a blessing & honor speaking to our Military heroes!
Monica,
I would like to tell you that the brief you gave today was the most compelling story to everyday drivers. The graphic nature of some of the events you showed clearly had a lasting impact on the audience and will influence their driving decisions in the future. Many thanks for supporting our staff for this Traffic Safety Stand-down.
Sincerely,
VADM John D Alexander
Commander, THIRD Fleet
*
(A work reference – This compliment of support came January 28, 2019, for my work as a Safe Driving Speaker, it came from someone who shares my passion for saving lives.)
Good morning, Monica, 
My name is B. Hart, I am a nurse at NMCSD. We met a
few months ago at a Safety Brief for a squadron at North Island. Your
presentation was so impactful, I've made it my mission since then to get your
contact information to the right people here at Naval Medical Center San
Diego. I believe every sailor would benefit from your safety presentation.
That said, someone will be reaching out to you before long to discuss future
opportunities. Stand by. Take care.
Very Respectfully,
Becky
B Hart, BSN, RN, PHN
Nurse Educator
Tobacco Cessation Program Manager
Health and Wellness Department
Directorate Public Health
Naval Medical Center, San Diego
Office: (619) 532-9857
*
2018 – (This compliment came 10 years later – but is still very much appreciated, and among the nicest compliments of my work as a Public Information Officer.)
This incident occurred in April of 2008, involving a near-drowning at a local middle school.  I was asked to address the media as a spokesperson for our fire department and the school district.
Received: November 6, 2018
Monica, you may not remember me, my name is Michael S., and I now work as the Director of Family Programs at the Cajon Valley Union School District. I first met you several years ago when I was an Assistant Principal in the district.
During my time as an AP, a student nearly drowned. A P.E. Coach and I gave him CPR, which revived him. I was so rattled and overwhelmed when the media started to arrive. Then like an angel, you took control of the media and created a safe place for the administration to support students and staff.
I never got the chance, but I just wanted to officially say, "thank you for helping our school during that challenging time." I know you saved the day on other campuses when it came to the media, and again I wanted to say thank you for coming to the rescue when we needed you!! You are a rock in our community!! You live our district mission which is to make El Cajon the best place to live, work, play, and raise a family. Know that you are appreciated!
Sincerely,
Michael S.
Cajon Valley Union School District
*
2017
I love speaking at Safety Stand-Downs, especially for our Military…I was very honored to receive the following request through MADD:
Subject: MADD SPEAKER REQUEST
Mrs. Walker,
I'm emailing you to request a guest speaker for our Command Safety Stand-down. At our last Stand-down training, our guest speaker was Monica Zech.  Her presentation was OUTSTANDING!!! If possible, could we have her conduct the training with us again? I understand that there is a request form that needs to be completed and emailed to you. Our Safety Stand-down is tentatively scheduled for 28 June, is it possible to have her as a speaker?  Please contact me if you need more information, and I will also need a request form.
Thank you in advance for your cooperation on this matter.
V/r
AO1 (AW)  Octavis M. Jones
NMC CWD Det North Island N42C
*
On May 4, 2017, I was honored to speak to Naval personnel at North Island again.  The next day I received the following email.
Monica,
Thank you so much for sharing your awesome story.  The word is that it was well-received by the command and, I believe, had a big impact on their lives.  I think everyone walked away with something from your presentation.
I appreciate your time and for volunteering to help wake people up to being safer and making better life choices!
*
November 28, 2016 – Another great letter following my presentation at North Island Safety Stand-Down on November 21, 2016, to Navy personnel.  Thank you!
*
November 18, 2016 – (This comment is why I love my work in injury prevention…)
Following my presentation to Marines at Camp Pendleton
Dear Monica,
Today, Fri 18 Nov, you spoke at Camp Pendleton at the chapel to the MCTSSA Marines. I was there as a civilian marine having served in the past.
The only regret I had about today is not coming up to you personally to thank you for your courage and passion in sharing your heartfelt "testimony" with all of us!  It was the most impacting safety message I have heard in years!!!
I can't thank you enough for blessing me with what you shared today.  Your message has been cemented in my mind, and I want you to know that you certainly made a lasting impact on me with what you shared today!
It will make me a more cautious and aware driver. I also plan to share what I learned from you with my three teenage kids.
I am so sorry for the loss of your father! My heart is heavy for what you and your family have to experience!
I will definitely keep you and your family in my prayers and pray that God will continue to use you in a mighty way as HE did today!!!
God bless you, Monica!!!
S. Wade 
*
(In News & Traffic Reporting)
In my first year as an Air Traffic Reporter in 1984, I covered the tragic incident at the McDonalds in San Ysidro.   First on the scene from the air, I did all I could to keep others away from this area as shots flew in all directions, even toward the freeway behind the restaurant.   Deeply impacted by this horrible day, I greatly appreciated the numerous calls and emails I received from the surrounding community, Border officials, and other agencies – thanking me for keeping them informed and for keeping many out of harm's way.  I later received a few news awards for my efforts.  It's hard to believe it's been 32 years.  I recently received this message from a fellow news journalist regarding this tragic day in San Diego's history.
*
November 1, 2016
Monica – You likely already know this, but I just finished reading a digital review copy of Lisa Napoli's book, "Ray & Joan" on my Kindle (release date is November 15) – and I saw your name listed in the acknowledgments section. The book is outstanding, and of course, I thought of you during the entire section which covers the San Ysidro 1984 tragedy. I wished the author got a chance to hear your voice on the Golden Mike 30-minute award submission because your reporting while flying overhead was outstanding. At any rate, glad to see you're doing well and just wanted to say hello.
Best, David (Kusumoto)
"Thank you so much, David!"
 *
 June 1, 2016:
I had the pleasure of speaking to seniors about safe driving at La Jolla High School just before their high school prom. Several students came up following my talk to thank me for coming out, and my presentation greatly impacted them.
From the teacher who invited me: "You were wonderful! My afternoon students raved about your presentation!"
Cathy Hutchins, La Jolla High
*
On January 4, 2016 – I spoke at a Safety Stand-Down at North Island.  Some of my presentations, like this one, are arranged through MADD.  I was forwarded the email below sent to MADD San Diego following my talk:
Dear MADD,
Could you send me an address where we can send Monica Zech a thank you letter for presenting at our Safety Stand-Down? By the way, she delivered the best Traffic Safety/MADD brief I have ever seen!!  It was outstanding!!
Thanks again,
J. Colwell CIV HSC-3, N4
U.S. Navy – North Island
(Thank you, Jim!  Bless you, for your comments!  As always, I am VERY honored to speak to the military! – Monica)
Below is a letter from the Commander of this same lecture:
Ms. Zech
Please accept my sincere appreciation for your support of our squadron's Safety Stand-Down on January 4, 2016.  Stand-Downs provide an opportunity to reflect on a wide variety of safety issues including Traffic Safety Precautions.  Your presentation to over 640 individuals provided an opportunity for our sailors to reflect on the seriousness of driving safety and the impact of unlawful driving choices.  Your training was very effective and will assist them with their decisions.  Thank you again for taking time out of your busy schedule to present a very constructive presentation.
S.T. Bailey                                                                                                                                                    Commander, U.S. Navy                                                                                                                            Commanding Officer, HSC-3
*
Below is a very nice letter I received following my driving safety presentation at a Naval Base in Ventura on December 18, 2015 – a special thank you to Safety Officer Ms. Bradford for inviting me to speak at their base:
Dear Ms. Zech,
Subj: Letter of Appreciation
It is with great pleasure that I express my sincere appreciation for your enthusiastic efforts during the Naval Base Ventura County's (NBVC) Holiday Safety Stand Down on 18 December 2015.
Your outstanding contributions to the United States Navy in utilizing your personal and professional experiences to educate and mentor our community onboard NBVC concerning "Drunk and Distracted Driving" were greatly appreciated.
Your energetic performance heightened the learning experience and positively enriched the subject matter to all Sailors.  I am truly thankful for your exceptional support provided to the NBVC team and extend you a hearty "Bravo Zulu" for a job well done!
Sincerely,
C.D. Janke                                                                                                                                                                             Captain, U.S. Navy                                                                                                                                                               Commanding Officer
(*Thank you, Commander!  As always it's an honor and pleasure to speak to our Military!)
*
Following my presentation at the Fleet Anti-Submarine Warfare Base off Harbor Drive & Nimitz to Navy personnel on November 24, 2015:
Monica,
I just wanted to thank you again for taking the time to talk to my command. I've heard overwhelmingly positive feedback about the talk from my people.  It made the issue so real to them and they appreciated that.  Thank you for what you do, and if we can help you out in the future please let us know.  Happy Thanksgiving!
Very Respectfully,
LT Amy Hunt
*
Following my presentation to Sage Creek High School Students and their parents on October 22, 2015. 
Hi Monica!
Thank you for being such an awesome speaker!  I loved the event and am so glad it was well attended.
Thanks again!
My Best,
Mary Ellen Reulein
Sage Creek High School, Carlsbad Ca.
*
Following my presentation at North Island to the Wolf Pack on August 17, 2015:
Mrs. Zech,
Thank you for taking time out of your day to come to speak to the Wolfpack on Monday. Your presentation was extremely impactful and provided quality education to our sailors. We greatly appreciate your effort in making our stand down a success!
Thanks again.
V/r,
LTJG Andy "Pags" Pagliarulo                                                                                                                HSM-75 Ground Safety Officer
*
Following my safe driving talk assembly on the dangers of distracted driving to students at Valhalla High School on March 23, 2015
Thank you so much for speaking at Valhalla. I heard so many positive things from adults and students about your talk, thanks for helping us with our mission to change driving behavior! Hope to have you back.
J. Owens, ASB/Activities Advisor
*
Following a Military Talk at a Safety Stand-Down at Lemoore Naval Station near Fresno on March 20, 2015
Monica,
Thank you again for taking your whole day for us.  Your presentation was the most impactful I have seen in my 12 years!  Have a safe flight home.
Commanding Officer, Safety Officer, A. Toll
*
Following a Military Talk at Camp Pendleton in November 2014
Monica Zech
Thank you for sharing your experiences and giving your time to Marine Wing Support Squadron 372 in Camp Pendleton.  Your message truly resonated with our Marines and Sailors.  I personally thank you for sharing your personal experiences.  Those are lessons that I hope our Marines and Sailors can have learned through you, instead of learning them through their own experiences.
Semper Fidelis ("Always Faithful")
Lt. Col. Angell
Diamondbacks MWSS – 372
*
On November 20, 2014
I spoke to employees of San Diego Gas & Electric at their Skills Center in Mission Valley at their Safety Stand-down:
Dear Monica, Your presentation was excellent! It is very thought-provoking. The information you present is absolutely critical to preventing tragedies. We thank you very much. Keep putting the word out there and stay safe!
J.Willoughby, Project Mgr. Skills Training Center (STC)
On Sunday, October 26, 2014
I spoke at a National Charity League Father/Daughter day event held at the Miramar Speed Circuit.  Many of the fathers came up with very positive feedback – including the email below.
*
October 27, 2014
Hi Monica,
The girls and Dads enjoyed your talk yesterday. My daughter and I had a lengthy discussion afterward, as your warnings about distracted driving resonated deeply with both her and me. In fact, she's a bit intimidated with the entire driving experience and, at nearly 17, still only has her permit. Her reluctance is partly due to her sense of responsibility and partly attributed to fear. Perhaps you have some words of wisdom to encourage her. Certainly, we are not pushing her and feel that it is important she is comfortable and confident before driving alone with a license. Additionally, I was wondering if you had any data pertaining to "time of day" related to the crash/fatality statistics. I am predisposed to think that a lot of the Red Light Running and DUI's are late in the evening or very early morning. Of course, several of your videos of red-light running were midday. I'm concerned about late-night parties or after concerts/dances. Any thoughts on that? Again, I appreciated your wisdom. I was the person who approached you afterward, complementing your mellifluous voice!
Thanks and best regards, Jim D.
My Response:  I followed up with numerous websites that answered his questions and more. He forwarded them to the other fathers that attended.  Some of which I'll be adding to my website.
A Mother Responded As Well:
Hello Monica,
Thank you ever so much!  Dean said it was terrific and I have heard only positive feedback thus far.  Monica, although I did read your website, I can't imagine all you have been through.  To share such personal tragedies as well as triumphs is a gift to us all.
Wish so much I could have been there to hear you speak Monica!  It does sound like our whole NCL Moms and Daughters would benefit greatly from having you as a guest speaker!  I will definitely pass your information along to the person who coordinates.  We truly appreciate your spending your Sunday afternoon with us!  Hopefully, we will meet soon!  All my best to you.
With sincere appreciation and gratitude,
Maureen W. – National Charity League
*
April 25, 2014 
Had the honor of speaking to about a thousand Marines at Camp Pendleton about safe driving and the dangers of DUI, driving distracted, and more. I was one of several speakers that day.  Following my presentation, I received a beautiful Challenge Coin.  The next day I received the following text message from one of the organizers:
"After speaking to the Marines, it is unanimous that you were their favorite speaker! Thanks again and safe travels!"
Lt.Lucas
*
Some comments come years later…
Good afternoon Monica,
My name is Brittany H. and I am overseeing Fire Safe Kids (FSK) right now at the BI. I wanted to let you know that received your forms in May. I also wanted to tell you that 3-4 years ago you spoke to my Public Health class at SDSU and I loved your presentation. I still remember the presentation like it was yesterday and was really excited to learn that you also conduct a lot of the FSK presentations!  I hope you meet you soon!  Have a great day!
Brittany H., Burn Institute, Community Outreach Intern
*
April 26, 2013 – I just completed a series of three safe driving lectures to employees of the Southern Indian Health organization.  Following my last presentation on April 26, I received the following email comment from a woman that attended the first talk I gave a few weeks ago. Thank you, Gail!
Monica;  I want to thank you for all the information you gave us here at Southern Indian Health in Alpine.  I personally listened to every word you said, I then took that entire information home and told my husband, daughter, and grandchildren, and their friends. Thank God for you, that same evening my daughter was out and about with my grandchildren. She happened to be the first person stopped at a traffic light, when the light turned green she remained stopped and remembered what I had just told her of checking to make sure traffic stops before going with the green light – and about that time "a driver ran the red light" – and if she would have gone across as she normally would have who knows what the outcome would have been.
Again your teachings are wonderful and I'll always be forever thankful. You're a true Blessing!
Keep up the fantastic work, and thank you so Very Much
Sincerely,  G. Jones
*
In April of 2013 –  I spoke to a group of San Diego area high school students enrolled in a San Diego Police Star Pal program called "Man Up."  It was a motivational talk on the consequences of making the wrong choices – bad behavior, alcohol and other drugs, DUI and other poor driving choices, etc.  This was the comment from the officer who invited me to speak after my talk – Thank you, Thomas!
Monica, you were awesome!!!  All I can say is that you're GOOD! I am looking forward in seeing you in my next session of Man Up!  Thanks again for your participation.
T. Miller #4039 Police Officer, San Diego Police Department
*
The following comment came after a safe driving presentation I made at a San Diego County Tribal conference held for their employees on February 8, 2013:
Dear Monica,
Your presentation – was a knockout!  You have a way of making the awful palatable in little servings so we can at last face the reality.  There was more than one wet eye in the house when you talked about your dad and daughter.   I went home and hugged my hubby AND my dog!  You left us all with images to fly into our imagination when we start getting stupid on the road…but you also made us all grateful for the ones we love. You were meant to do this, and I am very grateful that you did it for us.
Have a safe weekend!
J. Showalter, Sycuan Safety Manager
*
An endorsement/reference letter:
Sent: December 10, 2012
"Monica has spoken to my undergraduate Public Health students several times. She covers many aspects of safety, including texting and driving and drinking and driving. She also has spoken to my classes about the various professions associated with public health and safety.
Monica is an excellent speaker and definitely drives her point home! The students consistently evaluate her presentations as "informative, enlightening, beneficial, eye-opening, and thought-provoking." Her knowledge of the subject is terrific. She is an articulate communicator. She is an engaging speaker and has no trouble keeping the students' attention. Her content is age-appropriate for college students. Each time I listen to her presentation, I feel inspired by her words.
I believe you would be hard-pressed to find a more suitable and effective speaker. When Monica speaks, one cannot help but feel her passion and commitment. After hearing Monica's presentation, I am sure that your student-athletes will leave the classroom a lot wiser and safer."
Sincerely, V. Kreisworth, Ph.D. Division Head, Undergraduate Public Health Program San Diego State University Graduate School of Public Health College of Health and Human Services San Diego, CA
*
An endorsement:
February 6, 2012
From: Robert Concha, Writer, Producer, Creative Director, Senior Producer of Mind Force Media, and  Theatron Productions.com in San Diego.
"Monica is a rare gem in the communications industry. She is professional, creative, talented, and dedicated. As an on-camera talent, voice actor, or live presenter, she captures an audience and delivers her message clearly, concisely, and movingly. Her work as the Public Information Officer for the City of El Cajon, Police and Fire Departments, and the City's Safety Educator is admired throughout the county. I wholeheartedly recommend Monica; she is a true professional."
*
I was a keynote speaker at a parenting event in April 2011, I then received the following "thank you" from the coordinator of the event.
August 10, 2011
Hi Monica,
I hope you are doing well.  I wanted to let you know that the Survey Form we passed out for Family U, YOU were rated EXCELLENT SPEAKER on all the forms!
Thanks again for everything,
T. Verduzco, Parent Ed.
*
Apparently, my talks can leave a lasting impression…please take a look at a recent comment I received on January 14, 2011:
"Dear Monica – You spoke to my Mom's DAR group out in La Mesa (around 1990 or thereabouts). She LOVED meeting you and your sharing time with them-as did the other ladies! On behalf of my Mother, THANK YOU SO MUCH for enriching her life! Always a very safe driver, she took a Seniors' Course just to make sure that her skills were still sharp (they were!).
In May of 2007, at age 92, she renewed her Driver's License, SCORING 100% on the WRITTEN AND THE BEHIND THE WHEEL EXAMS!  Two months later, she died from a stroke, having been able to keep her independence right up to the last. And from myself, my own THANK YOU- despite your great personal loss of your father, you continue to contribute daily to Public Safety and the quality of life of us all.
Bless you!!!"                                                                                                                                                Bill Howden
*
Following A DUI Awareness Day at Mesa College
December 8, 2010
Dear Monica,
I want to extend a particularly heartfelt "Thank You" to you for being such an essential part of "The Death Experience" at Mesa College. Student feedback was astonishing.  Many were moved by your blunt, straightforward message. Your skill in engaging with them in unguarded, frank discussions made a profound impact. You shaped the outcome of the entire event.
Transitioning our student's critical thinking skills from sloppy uncertainty with lame excuses to cognitive discernment regarding real-life consequences inside each choice they make, stands as our challenge. Progress was made that day.
Thank you for all you do to keep our roads safe and people alive.
Sincerely,
Polly Rose RN, Community Education Coordinator
Student Health Services
San Diego Mesa College
-0-
Following a talk at Valhalla High School:
Hi Monica,
The school is still buzzing about your presentation. (4/7/10) I cannot thank you enough.
Also, I spoke to the President of our school PTO (formerly PTA) and she is extremely interested in having you out to speak to the parents before our school year ends. I was hoping you would have some availability one evening between now and mid-June. If so, I will meet with her and our VP to see when we can schedule the theater. If you can do it, are there are days or weeks that are not
good for you. Again, it would be an evening time so parents could attend.
Thank you again, I look forward to hearing from you!
R. Brooks
P.S. As you probably know….today is National NO PHONE ZONE Day!!!  So far we have collected almost 300 signed No Phone Zone car pledges from students and staff and they are still coming into me each day!
-0-
April 7, 2010: Following four driving safety assemblies I delivered at Valhalla High School today, I received the following card:
Monica – I cannot thank you enough for taking the time to present to the students and staff at Valhalla High!  Your presentation was fantastic and I know you touched many lives today.  It was wonderful meeting you and I look forward to the opportunity to work with you again!
Sincerely,
R. Brooks
On March 14, 2010: I just returned from Miami where I was invited to speak to students and their parents at a private high school called Gulliver Preparatory. I delivered two talks on March 11, 2010.  I first spoke to the students (9th-10th-11th & 12th-grade levels) and then to their parents. Here is a comment I received from the host parent Lisa about my talks:
Monica, You were a pleasure to do business with and we truly enjoyed your visit.  I believe that all those who were lucky enough to listen to your message walked away with a new understanding (and fear) of the dangers out there.  You do make quite the impact.  My son said that it was all the buzz.  His friends could not stop talking about it. You do great work and I hope to see you again in our fair city.  With, much better weather.  I will get the video to you and send you a copy of the article we write for our school newsletter. Thanks again for all that you do to keep us safe.
Kind Thoughts,
L. Pasalobos
*
Another very nice comment following a safe driving talk I delivered to a Yacht Club in the beach area.  Received October 9, 2009.
Hi Monica,
I have been meaning to send you a note letting you know how much we enjoyed your talk at our M. B. Yacht Club.  Your speech did have an impact!  That same evening there was an event at the club where alcohol was being served.  One of the ladies that attended the meeting came up to me and said she and her husband had decided to spend the night on their boat at the club after the party.  She said normally they would have driven home but your talk reinforced what they both knew and was a good reminder on drinking and driving.
Thank you again for speaking to our club.  I was thinking it would be beneficial to invite the juniors to this type of presentation next time.  I won't be the president of the group next year but I will pass on your contact information and the positive feedback I received to next year's president.  If there is anything the club can do for you please let me know.
Sharon B.
*
Received this comment 9/2/09 following a safe driving and disaster preparedness talk to the New Frontier mobile home community in Santee:
Hi Monica,
What a wonderful day – your presentation tonight was magnificent. Monica, you were truly great. You really did a super job and everyone was so pleased. Everything you brought out was so important and so timely. There wasn't a soul in that room who was not directly affected. Thank you, thank you.
My best to you and your family,
S. Sizemore
*
Received this comment on 5/14/09 following a safe driving talk I delivered to a traffic school on 5/09/09 – thank you!
Monica Zech,
I'm just emailing you to thank you for doing such a wonderful job speaking at the CBI traffic school this past Saturday. I also wanted to let you know I just saw you on the morning edition of San Diego 6 news as the safety spokesperson. You are doing a great job altogether and I hope you will continue to inspire other young drivers as you did for me.
Sincerely,
C.W.
Received following a driving safety lecture to educators at a local University on 1/12/09:
Monica- I wanted to drop you a note to say "Thank You" for taking the time out of your busy schedule to come and speak at Prof. Graf's Health Education class last week. Your presentation was really eye-opening and I've been making better decisions ever since!
Thanks again and I hope to one day call you up to come to speak to my class.
Best, B. Ratner
*
Dear Monica,
I met you at Dr. Graph's health class at National University. I am a special education teacher at a local High School. My students are 18-22 years old. I'm sure my students would be impressed and shocked by how dangerous walking around the streets could be. I thank you for everything you do for children and to ensure public safety.
I always think of how many people suffer or die needlessly on our roads. It upsets me to hear of anyone dying, but these people are not at war and shouldn't have to go through that. Thank you for everything that you do to help people become more aware of safety.
God Bless you,
Carlos
*
Received December 11, 2008
Following a safe driving lecture to Navy Personnel in Point Loma:
Dear Ms. Monica,
Thank you for your time spent with us this week at our All Hands (military) Safety Brief. I found your brief interesting, educative, and (morbidly) entertaining.
While I have never seen the level of trauma you have, I do have a bit of time volunteering with a county fire department as a firefighter/EMT, and as an auxiliary police officer. I've seen what speed can do when a small car hits a telephone pole at high speed.
(After hearing my talk) I have slowed down, given a 3-4 second distance in following, compared to the 1.5-2.5 I used to, and have caught myself looking several times both ways before proceeding through a controlled intersection. Not much, but at least I will have more reaction time if I am involved in something I can't avoid.
It really brought it home when you shared with us the loss of your father, and the incident your daughter was in.
Again, thank you for your time.
Best Regards,
Ken L. L.
Chief Petty Officer, U.S. Navy
*
Following a driving safety talk on November 10, 2008:
Hi Monica,
Just wanted to thank you again for so graciously and expertly presenting last night for AAUW. Everyone was raptly attentive, and I think we all learned some interesting, new things along with being graphically reminded of much we know, but often forget to follow! You certainly know your material, and your passion and sincerity come through glowingly. Well done! Just had an email from our president, Rilla, and she expressed her praises for your talk, and wished she could have heard the full 2 hr. presentation! Ever thought of starting a Fan Club? Please know how much I appreciate your willingness to give up so much time for my group.
G.C.
*
Following a driving safety talk to a Kiwanis Group in La Jolla, October 24, 2008:
Monica,
Thank you for your presentation. You did a terrific job. One highly reliable mark of a good presentation is when people stay over to talk to the speaker, voting with their feet as it were. You had lots and lots of people doing so. So, kudos!
R. C., C. Law Firm
Received August 12, 2008
Following a driving safety lecture to the San Diego Gas & Electric office in El Cajon:
Monica,
I am late, but don't want to miss the deserved opportunity to say how enjoyable it was to hear you at SDG&E's Safety Standdown in El Cajon. In so many, many ways you informed and educated employees on driving and its potential ugly consequences. Personally, I didn't want to drive back to the home office or go home that day. Again, your energy and passion was remarkable!
Thanks,
R.G.
Business Systems Analyst
*
Received May 21, 2008:
Hi Monica,
My name is C.M. and I was privileged to attend your presentation at our monthly TIP continuing education meeting Monday evening. Along with most of my fellow volunteers, we were terrified to drive home that night but certainly came away from your presentation with many sobering facts and figures. Thanks so much for the "wake-up call/reminder" to our group…..especially some of us more "mature" drivers!
Thanks again for a most informative evening!
Regards, C. M.
(T.I.P. is Trauma Intervention Program)
*
Received May 18, 2008
From a parent whose child attends 3rd grade at Our Lady of Grace Church Academy in El Cajon:
I have to tell you what an impact you've had on my daughter! Whenever you come to their classroom to speak on safety she is very excited. She can't wait to get home to tell me all about the safety information you delivered to her classroom of students. Thank you & Bless you for all you do for our children – and our community! – Ms. Church
(Yes, that's her name)
(Thank you Ms. Church your comments meant a lot to me. – Monica )
*
Received January 8, 2008, following my talk to a Navy Pilot group at North Island Military base:
Monica,
Thank you again for yet another outstanding presentation to HSL-47! We greatly appreciate the commitment of time that you have given to us, and we are safer on the roads and at home and are better prepared for the "unknowns" out there. If we can ever assist you in any way, please don't hesitate to ask.
Sincerely,                                                                                                                                                        J. Melody                                                                                                                                                 North Island Base
*
On September 19, 2007, I spoke to medical students at San Diego State University on the various jobs available in the EMS-Emergency Medical Field:
Hi Monica,
I heard you speak at SDSU in Professor Graf's class last week. I just wanted to email you and thank you for your powerful presentation. It definitely made an impact on me. You opened my eyes to more possible career opportunities and you motivated me to stay in the health field even more. I never have thought of working as an EMT, or 911 dispatcher, yet now that I know of them in more detail they are on my list to consider!
Thank you again for your motivation and guidance. I am at a point where I am lost and trying to decide which road to take after I get my bachelor's in Public Health. I have two semesters left to decide, and your words helped me realize how much I want to work one on one with people.
Sincerely,
A.S. – SDSU Student
*
In June I was very honored to speak to an audience of doctors and nurses at a trauma conference at Sharp Memorial, I've posted their very nice letter of appreciation.
August 28, 2007
Dear Monica Zech:
We would like to express our gratitude for your excellent presentation "From What I See –Why the Rush to Die" at our June 29, 2007, Advanced Trauma Symposium. The participants consistently evaluated your presentation highly. We thoroughly enjoyed your presentation style – and so admire and appreciate your message. We sincerely thank you for your time and expertise in making this a successful program.
Sincerely,
M. Hilfiker, MD, Ph.D. J.Bergman, MSN, RN
Medical Director Educator
Trauma Services Trauma Services
*
It's always my honor and pleasure to speak to the military! On July 6th I had the honor of speaking to the crew of the U.S.S. Boxer. About 1000 were in attendance:
Hi Monica,
People are still talking about some of the stuff you showed. Just walking around the ship I've overheard people talking about this or that from the presentation. In my experience that's pretty unusual as almost always an hour after the presentation is over, people have no clue as to what was put out. Thanks once again for appearing on such short notice and giving us a memorable presentation. In all likelihood, we may call on you in the future.
V/R Lewie
USS Boxer
*
It's also an honor to speak to High School Seniors, giving them the tools to make good decisions in reaching their career goals…
From Monte Vista High School & Assistant Principal Donald Carroll:
Dear Ms. Zech:
The Monte Vista Staff and Senior Class wish to thank you for your presentation on drunk driving and the problem that the mixing of alcohol and automobiles can create.
The video presentation (PowerPoint) was a very real look at what can actually happen to those who are driving impaired. Many students made positive comments and left the presentation with greater awareness and vowed not to drive under the influence.
Once again, thank you for your time.
*
I've been doing school assemblies to "freshman" students at high schools since they'll soon be getting their drivers licenses…on May 2nd, 2007, I spoke to 9th-grade students at an assembly at Santana High School – and received a very nice thank you:
Monica – On behalf of the 9th-grade students and staff at Santana High School, I want to thank you for the information and engaging presentation you gave. I think you should be pleased to know that all our teachers reported their students engaged in lively conversations the next day. You made quite an impact!
With Our Sincere Thanks – N. Magee
*
In my career talks – I love to inspire youth to pursue life-saving careers:
Received 3/15/07
Dear Ms. Zech:
I recently met you when you visited my traffic school session in Escondido and gave a powerful and touching presentation a few weeks ago. I asked for an informational booklet on the El Cajon Fire Department. After reading it I became very interested in pursuing my career in the fire service. I would really like to become a paramedic or even a firefighter. My friend and I have already set up a ride along with a North County area Fire Department. I am very excited and I cannot wait! I would like to know if it wouldn't be too much trouble if you can send and give me more information on becoming a paramedic or firefighter. Thank you very much it will be very well appreciated!
Sincerely,
V.Martinez
*
Following a talk to a teacher's group in Pacific Beach:
Sent February 13, 2007
Hi Monica,
I saw a presentation by you in a class I was taking from G.Graf last month in Pacific Beach. I was deeply affected by your lecture and was wondering if you would possibly consider speaking to my church's youth group sometime in May. I spoke with our youth minister and she is interested if you are available. If you can do it, I will provide you with her contact information. Thank you for your time.
Sincerely,
M.Ulrich
*
Following my talk to a utility company in Downey, California July 24, 2006
Hi Monica,
I wanted to thank you for a fantastic presentation yesterday. You really were the highlight of our meeting! People couldn't stop talking about how informative and real your message was. I think you hit home in such a huge way and I truly believe that you've impacted each and every one of our lives. And for that, I thank you very much!
It was such a pleasure meeting you and having you at our first safety meeting. I don't know if my counterparts in San Diego have used you before, but I will definitely pass along your name and contact information for their next safety meeting. I hope that we can work with you on future safety meetings.
Take Care!
L.De Hoop
Assoc. Program Manager, Customer Programs
Southern California Gas Company
*
Following My Talk To The Marines At Miramar on November 21st, 2005:
Dear Ms. Zech,
I would like to offer my thanks for your outstanding driver-safety presentation at the HMH-361 Safety Stand-down. Your presentation on the consequences of traffic violations, aggressive driving, road rage, and driving under the influence was exactly the upfront type of training needed by our Marines. The visual aids provided graphic amplification to the points presented in the brief and kept the audience focused. I sincerely hope that our Marines incorporate the information you provided to become more conscientious, defensive, and safe drivers. Your initiative and professionalism are a credit to you, the El Cajon Fire Department, and the City of El Cajon. On behalf of the Marines of HMH-361, thank you for a job well done.
Sincerely, R.L. Caputo Jr., Commanding Officer
*
Following a recent talk to a parenting group:
Thank you Monica for your wonderful presentation!!! You make this world a better place for children and families! You are one of my heroes in this world!!! Everyone is still talking about what they have learned. The seeds of knowledge you plant really sprout and grow very strong. One Mom mentioned how she went right home and had a talk with her husband, especially about the road rage business. She is proudly taking a stand and really educated him on what she had learned. "I never cease to be amazed."
L.Osborn
Parent Education Instructor, Grossmont Adult School, Grossmont Union High School District
*
Following a fire safety presentation to 3rd graders at Magnolia Elementary in El Cajon on 9-23-05:
Dear Monica,
Thank you for presenting the "Fire Safety Assembly for Third Graders" at Magnolia Elementary School on Friday, Sept. 23rd. The students loved it! You are such a celebrity and the students greatly enjoyed your presentation! Your message was taken to heart by everyone there.
Thank you for bringing the three firefighters too! Even though they couldn't stay for the entire session, they were as popular as ROCKSTARS by the crowd of children!!! I am not kidding. Their uniformed presence and friendly nods held the children in awe of them. You can be sure the Magnolia audiences really appreciate their visitors!
Thanks again for your wonderful work! You are such a lovely person and a fantastic role model for kids – and teachers as well!
From,
J.Dutcher
Teacher & Assembly Coordinator
*
Email following safety talk in June at Our Lady Of Peace Academy's Driver's Ed class 06/10/05:
Dear Ms. Zech,
I was in the class for driver's education at OLP this week and I heard about your presentation. Your speaking really reached through to all of us, and I can see that it will be very beneficial to all of us also. Thank you very much for taking your time to speak to all of us, and for your dedication to helping us realize the importance of safe driving.
Sincerely – A.D.
*
Letter from Driver's Ed & Health Teacher at Sweetwater High 5/26/05:
Dear El Cajon Fire Chief Mike Scott;
Ms. Zech's presentation about traffic safety is a wonderful compliment to my driver's education and health classes here at Sweetwater High School. Her amplified golden voice captures the attention of the students. The slide program, with its high-impact photos holds their attention. Thank you for allowing Ms. Zech to present to my classes, I look forward to her return next year.
Sincerely,
C. Yamashiro
*
Following a talk to a Twin's Club in Poway 4/19/05:
Thank YOU, Monica! Your presentation was phenomenal. I left there wishing that every friend and family member of mine was there to hear it as well! You do amazing work and I'm sure you are saving lives every day with the things you say. I know I will certainly drive differently and more cautiously than I have in the past. I love what you said about "karma" and that accidents are NO accidents. What a different perspective to have in our heads while driving and dealing with pushy drivers.
I'm sorry for the losses you've had in your own family. It's easy to see why you feel so passionate about car safety! It's clear to me that you are fulfilling your "purpose" all right! You are honoring the memory of your Dad and Sister every day. Thanks again, so much for taking the time to speak to our club. I know we'd absolutely love to have you speak to us again. Only next time I will encourage everyone to bring their spouses and friends!
Thanks again for your time and wonderful presentation!!! It was truly OUR pleasure,
Sincerely,
J.Boaz
Twin Club Poway
*
I was very honored to speak recently to a large group of 450 Marines, just back from Iraq, at Camp Pendelton on traffic safety…
From their GySgt: (Sent: 10/25/04)
There were approximately 450 people there for your presentation last week. Thank you so much for a fine presentation. I have received a number of positive comments. I am sure your presentation hit home for a number of Marines in the audience. With the help of people like you, we can make a difference!
Semper Fidelis,
GySgt B. Voss
*
Sent: September 15, 2004
Following S.D.G. & E. Safety Stand-down In Miramar
Thank you, Monica, Your presentation was great!!! And very well received by everyone. Keep up the good work!!
And To Marie, Thank you for your great selection of Monica for our stand-down.
T.Harris
S.D.G. & E.
Electric Meters Operations
*
Same lecture, another comment:
October 14, 2004
Monica,
Thank you again for presenting at our Stand Down! Your presentation and materials were awesome – I really think you made a positive impact on many of us.
H.J. Vanderlinde
*
Sent: August 24, 2004
From a Driver's Education Instructor
Monica,
Thank you for the article. I will use it in Drivers Ed as well as in Traffic Violator School for La Mesa Driving School. Keep up the good work. You are doing an excellent job for us and I always welcome hearing you speak!
M. Young
*
Sent: August 3rd, 2004
Re: Safety Talk Sept. 30 – Construction Co. Group
Monica: Thank you for providing the resources to the public that you do. I believe you ARE making a difference in people's lives, their way of thinking, and giving them food for thought. We can always improve on how we can help others, our families, and ourselves. Thanks for being there.
Sincerely,
S.Young
*
Sent: August 2, 2004
Re: Traffic Safety Presentation Sept. 30, 2004 – Construction Co. Mgrs. Group
Greetings Monica, and thanks again for your work on Friday. I believe you made a big impact on our group and there were several folks who commented positively afterward.
J. Betts
*
Sent: June 29th, 2004
Hello Ms. Zech,
I am the guy from Helix Water Dist. who asked you today about the collision at Mollison and Main. Thanks again and I truly enjoyed your part of today's class.
You are an excellent speaker.
Thanks,
D. Martin
*
Sent: Monday, July 12, 2004 – 11:12 AM
You gave your talks on driver safety and fire safety at SDG&E's December Safety Standdown 03′. You were my favorite speaker that we had all year. I had heard your talk at a different standdown when I was a meter reader. I wanted the department I work for now to be exposed to the same information. Our company is very safety conscious.
Your graphic pictures helped to remind us what happens if we don't follow what we have been taught. Your timely presentation impacted our group, EGIM.
K. Sanchez
Safety Committee
Semprautilities
*
Following Safety Talk to Friends of Lake Murray, 3/18/04
You should be commended for the mission (on safety) that you have undertaken. I hope that you are. I drove my grandson home from the meeting (to my house) and he told me that I was 5 seconds (following distance) behind my daughter's car. He said that that was good because 4 seconds would be acceptable.
I saw several people that were at the meeting, at the lake this morning. They loved your talk. Thank you so much. My grandson's attention never wavered from you. He was riveted on your every word.
Take care and blessings back to you.
B. Cleves
*
Following Safety Talk to 1st & 2nd Grade Students, 3/1/04
Hi Monica,
The kids loved you! I already had some ask me to write down the website address so that they could look up additional info and write to you from home. I loved how engaged they were–it was great! Thanks sooooo much again!!! I'm sure you'll be hearing from us soon.
Teacher: J. Tyrone
*
Following Safety Talk To A Teachers Group, 2/7/04
Dear Monica,
I want you to know the depth and value of your message in me. I examined my own life and current habits. I live in Julian so driving to Carlsbad twice a week is tough on me and my family. Looking back (thanks to you), I realize I often drive my little econobox Toyota Echo way too fast. Living in the country, I am also libel to pass others driving under the influence. My two children are the world to me, and I appreciate your reminder to
stack the safety odds in my favor. Furthermore, I'm going to start discussing seat belt safety with my 3rd and 4th graders, as I'm sure many of their parents lack the education for me to trust that all those kids are always wearing their seat belts. I'm working on a
lesson in my head right now.
Anyway, I want to pass this on and make sure you keep saving lives. We'll never know if you today saved my life or one of my family members. In the big picture, it's highly probable.
Please forward this note to the Fire Department or any others who might be interested in the value of your current position. I'm going to pass on your information to our school's resource center. Our little high school needs your services!
V.Copeland
Julian, CA
*
Talks To Adults/Parents:
Following Talk to S.D.G. & E. Employee Safety Stand Down 12/11/03
Subject: THANK YOU
Sent: December 11, 2003
Thank you for your wonderful presentation at today's SDG&E EGIM's Safety Standdown. I meant to pause for a moment with you at the end and just say a prayer for your upcoming surgery. And, may you wake up and be free from pain and any long-lasting symptoms from your injuries." (Injuries from a stop sign runner causing a collision 8/29/03)
I was sorry to hear of your father's death, too, (killed by a DUI driver 6/92) and understood completely how that must have happened because I was almost hit the same way not too long ago.
J. R. Mitchell
Business Analyst
SempraUtilities.com
*
Sent: 11/5/03
Dear Monica;
I just want to say, how much I personally enjoyed your presentation this past Tuesday. I value all the information that you have passed on to me, and will carry it with me for the rest of my life! In addition, my children will benefit from the knowledge I have obtained from you.
Once again, THANK YOU!!!
Sincerely K. Burke.
*
Note: I love speaking to "parenting group, new parents, or soon to be parents" in which I talk about being a better "safety role model" for their children, and the mistakes we often make as parents without realizing it. The response from these talks has been overwhelming as shown in the following emails.
Sent: September 15, 2003
Dear Monica,
I would like to take this opportunity to thank you for speaking to the Grossmont Mall Walkers on Saturday, September 13, 2003, regarding "Stay Safe, Be Safe." As you can see from the evaluation summary sheet, the participants really appreciated this talk. I appreciate the professional manner in which you presented the information.  Participants walked away with an understanding of how to stay safe when walking, driving, and in their homes. Thank you for honoring this commitment after your accident.  Your personal experiences added greatly to this presentation.  On behalf of the Grossmont Mall Walkers, I thank you.
Sincerely, Shelly Buono, MS
Grossmont Sharp Hospital
*
Sent: 5/20/03
Dear Monica Zech,
I would like to thank you once more for your presentations. Parents were grateful for the information. It was so much of an impact that a male parent kept his wife awake until 3:00 a.m. talking about what he had learned that night. Another parent, (female) admitted driving under the influence once in a while, not anymore! I wanted you to know that you make a difference and we are very grateful.
Thank you for answering all our questions. Hope to see you in my future parent education classes.
Teresa Verduzco
Grossmont Adult School Instructor
Vista La Mesa/Golden Avenue
*
Date: February 11, 2003
From: L. Bogan
To: El Cajon Fire Chief Ed Jarrell
Monica Zech made a safe driving presentation to my parent education class at Foothills last Thursday evening. (February 6th) I wanted to let you know that she put on a fantastic presentation. I have heard "safe driving" talks dozens of times, but her presentation was different. Her manner isn't to lecture and crams her beliefs down your throat, she just told us why she doesn't do certain things. It really made me, and others in the class, realize the risks we take without realizing it (and the horrible consequences of our actions). I've caught myself doing "DWS" maneuvers and changed my driving behavior in just a few these past few days (why does her distinctive voice keep haunting me when I get behind the wheel?!?). I wanted to pass on to you what a great job Monica is doing in the community.
*
Date: 5/14/01 (Girl Scout Meeting)
From: S.J.M
Dear Monica,
Your words at our home that evening have echoed through many teenage ears. God knows His Works are through you. According to my friend E, her twin girls will never question her again about "not trusting their friends". They now agree with her if she asks them not to ride with certain kids. My seven-year-old is now playing the seatbelt race game after you mentioned your daughter did this. My eldest daughter has told lots of other people and said that you were totally not boring and the programs at Girl Scouts are looking to coordinate an older girl forum of Hot Topics and ask you to speak.
Thanks,
SWM
El Cajon
*
Teen Talks:
I love talking to teens, especially in driver education/training courses – it's always nice when a teen, or their parent, takes a moment to comment about my talks:
From: HC/Valley Center High School
Sent: Thursday, March 06, 2003, 3:49 PM
Hi, I would just like to thank you for your presentation in our driver's ed class yesterday. That class has taught me so much about driving safety, thanks to speakers like you, I'm sure it will help me many times in the future. Thanx again.
*
From the parent of a teen:
Hi Monica,
Thank you so much for your wonderful talk last Saturday Morning. My son, Trevor, came home just bubbling over telling me all about how really terrific you are! I really think the lessons you taught sank in for him. He was most impressed with your gallery of photos and described nearly all of them in great detail to me.
It's really great to know there are people like you in this world who can get through to teenagers when "Mom" can't and inspire them to "do the right thing."
Thanks again,
J. C.
*
From another parent:
Both my sons heard you speak at Valley Center High's Driver's Ed class. They said you were great. That is as high of a compliment that you can receive from teenagers. Have a great week.
Thanks,
J. Dorschel
Financial Services Professional
*
Response On Disaster Preparedness Talk:
Sent: May 12, 2003
Dear Monica,
I want to thank you loads for the great talk that you gave at our Home Owners Association meeting. It was absolutely perfect, and just exactly what we were hoping for. We are trying to generate enthusiasm for our Emergency Disaster Program within our resident community, and it is slow in coming. We have our share of elderly infirm people who want and expect to be helped, but those who can and will do the helping are few and far between. So we are trying to get the message across that each individual household is responsible for its own emergency food, water, etc. You hit the nail on the head. We all thank you.
Thank you again, Monica. You are such an asset to East County.
S.Sizemore
*
Following a guest appearance on a KPBS radio show on "Aggressive Driving", I mentioned my safety website. In response, I received quite a few emails from those who miss my traffic reports and thanked me for being so involved with safety. I thank you for your compliments. Your comments were very much appreciated and heartwarming.  But the following email touched me deeply.
From: Mr. G. Dixon
Subject: A Monica story
I have a friend who is a Vietnam War veteran, as I am. Some years ago, "Ed" told us that he still got uneasy when he heard a helicopter flying overhead. That surprised me because that sound is still welcome to me; it reminds me of a chopper bringing chow and mail or taking me to a better place.
An astute therapist at the VA asked "Ed" if he ever heard Monica Zech giving the traffic info on the radio. "Ed," said yes, he liked that smooth, beautiful voice. The therapist said – "So, think of Monica sitting in that chopper flying overhead telling us about the traffic."
I saw "Ed" about a year later and he told me he was a new man and didn't worry about helicopter noise anymore. True story.
Give yourself a pat on the back, Monica.
G. Dixon
*
Hi Monica,
Just read your post (of safety comments) at ncdsa.com and wanted to say thanks. I never really WANT to put on my helmet and pads but always do, ever since becoming a mom! I can't stomach the thought of leaving my little guy motherless just for the sake of an equipment-less ride. Plus, I have to do the role model thing now…anyway, just wanted to say I appreciate it. Hope all those guys do.
B. Odanaka, Laguna Beach
www.SkateboardMom.com
"We flip for children's books!"
*
More Comments From The Military Bases: Here are a few emails I've received following Safety Talks at the MCRD Miramar Base Theater and Camp Pendleton – I had a great time!  
From: Manuel Moralez III, Air Traffic Control, MCAS Camp Pendleton
"I am one of the civilian employees at Camp Pendleton. I attended your presentation this morning and just wanted to say thanks for the effort you put into helping us stop and really look into safety. I was thinking this was going to be a general presentation of don't drink and drive and everyone goes home. But towards the end when you made it personal about your life, it re-enforced the first 45 minutes of your presentation. I am amazed at how you were able to re-focus your experience and do good for others. thank you again, Monica Zech."
I want to thank you on behalf of the Youth-to-Youth Helpline for putting our (crisis) information on your website. One of our youth was able to access it by putting in keywords such as "youth and help and helpline". We appreciate your support in getting the word out to the youth of San Diego County.
*
From: GySgt David Ward, in charge of organizing the Safety Stand-Down
"Monica, I just wanted to thank you for your participation in our operational pause. You were awesome as usual. In fact, I wanted to provide you some feedback."
*
From: Col Ken L. Jorgensen:
"From the RSU I'd like to thank you for a superb standdown. Msg was well received! I especially appreciate the brief given by Monica Zech…in my 23 years and numerous stand-downs that was the best driver safety brief, I have ever seen! Great Job!!!"
*
From: Capt. J.C. H
Monica,
I saw your brief today at Camp Pendleton. It was the best I'd seen in a long while. Thanks for sharing your knowledge and enthusiasm with us.
Semper Fi!
*
Dear Monica,
I was at the safety stand down at Camp Pendleton today. I thought you did an awesome job! As always though, there are those knuckleheads who will never listen and shrug it off, and I hope they learn. Have a happy holiday, and God Bless!
Sincerely, Lcpl. L D.
"Thank you everyone for your wonderful comments!"
Monica Zech