Photo Library – Through The Years
I am sharing some fun photos and special honors during my career. I feel so blessed and grateful for the many opportunities I've been given in my career!
(1984-2001) – I'm proud to have been San Diego's 1st female Air Traffic Reporter and San Diego's first Television Air Traffic Reporter. I worked for the Automobile Club of Southern California, contracting with local radio and television stations.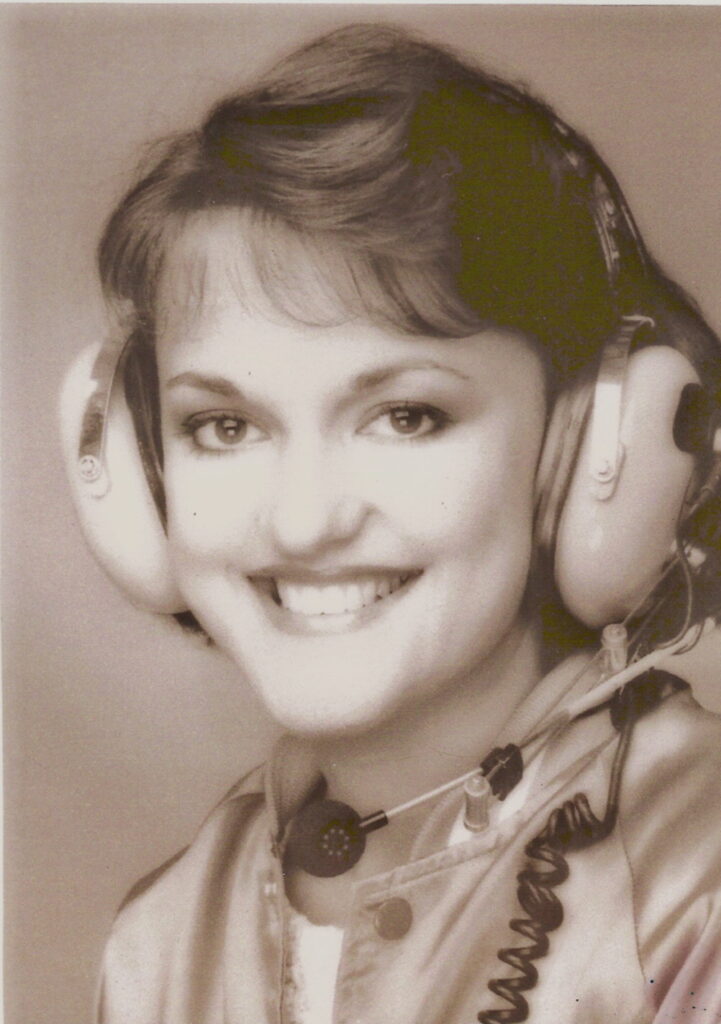 My first Public Relations picture was as an air traffic reporter for the Automobile Club of Southern California.
Climbing into our Bell Jet Ranger traffic helicopter at Montgomery field.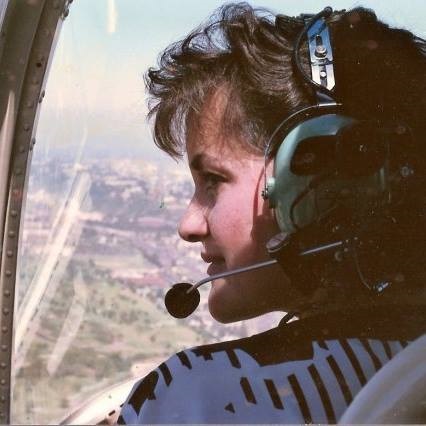 I felt so blessed to have such a fantastic job flying over San Diego – my office in the sky!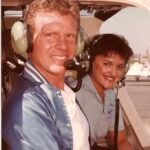 From my first year as an air traffic reporter with my pilot Captain Dennis Hottenstien.
In 1985, I co-hosted a United Way event with baseball great Steve Garvey at the Old Globe Theater – that was a fun evening!
Below, I had the honor of meeting former San Diego Charger Coach Don Coryell. I was so excited to meet him, but I was stunned when he said he was excited to meet me and tell his wife he had met me. He coached the Chargers from 1978 to 1986. Unfortunately, he passed away in 2010 at the age of 85.
In 2016 I was very honored to be given the first honorary Associate of Arts degree by Grossmont College. It was Grossmont's first honorary degree ever given at the College. Thank you for this incredible honor!
In 2010, I was invited by the PTA of a Private High School in Miami, Florida, to deliver one of my safe driving talks to their students; they especially wanted me to target the dangers of "texting" behind the wheel. They had this wonderful banner made to promote my presentation at the school. I first spoke to the students at a noon assembly and was scheduled to talk to their parents later that evening. I was forewarned not to expect very many parents to attend. But, to their surprise, it was "standing room only!" Apparently, students insisted that their parents come to see my presentation, and many of them returned to see it again. It was a very successful trip!
In 2001, I was honored to be the El Cajon Fire Department's first Public Information Officer (PIO) and safety educator. In 2005, I became the City's first PIO.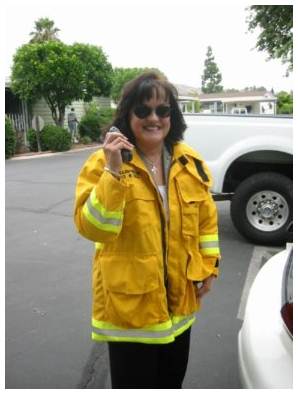 Following 9/11, it was such an honor to meet several New York City firefighters who came to provide fire training classes at the fire training facility in El Cajon. In the picture is my daughter Victoria and a New York City Firefighter.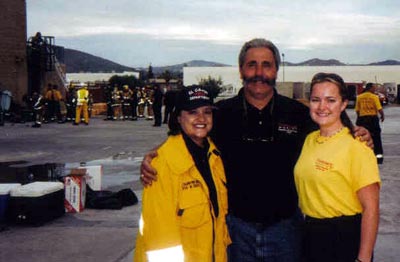 In 1994, I was honored to be the first female emcee of the Fairest of the Fair pageant for the Del Mar Fair, now the San Diego County Fair. For the first 49 years, the pageant had a male emcee, so it was quite an honor. My father would have been so proud to have been there; he loved the Del Mar Fair. Unfortunately, he was killed by a DUI driver two years before this event. I'm sure he was smiling down at me.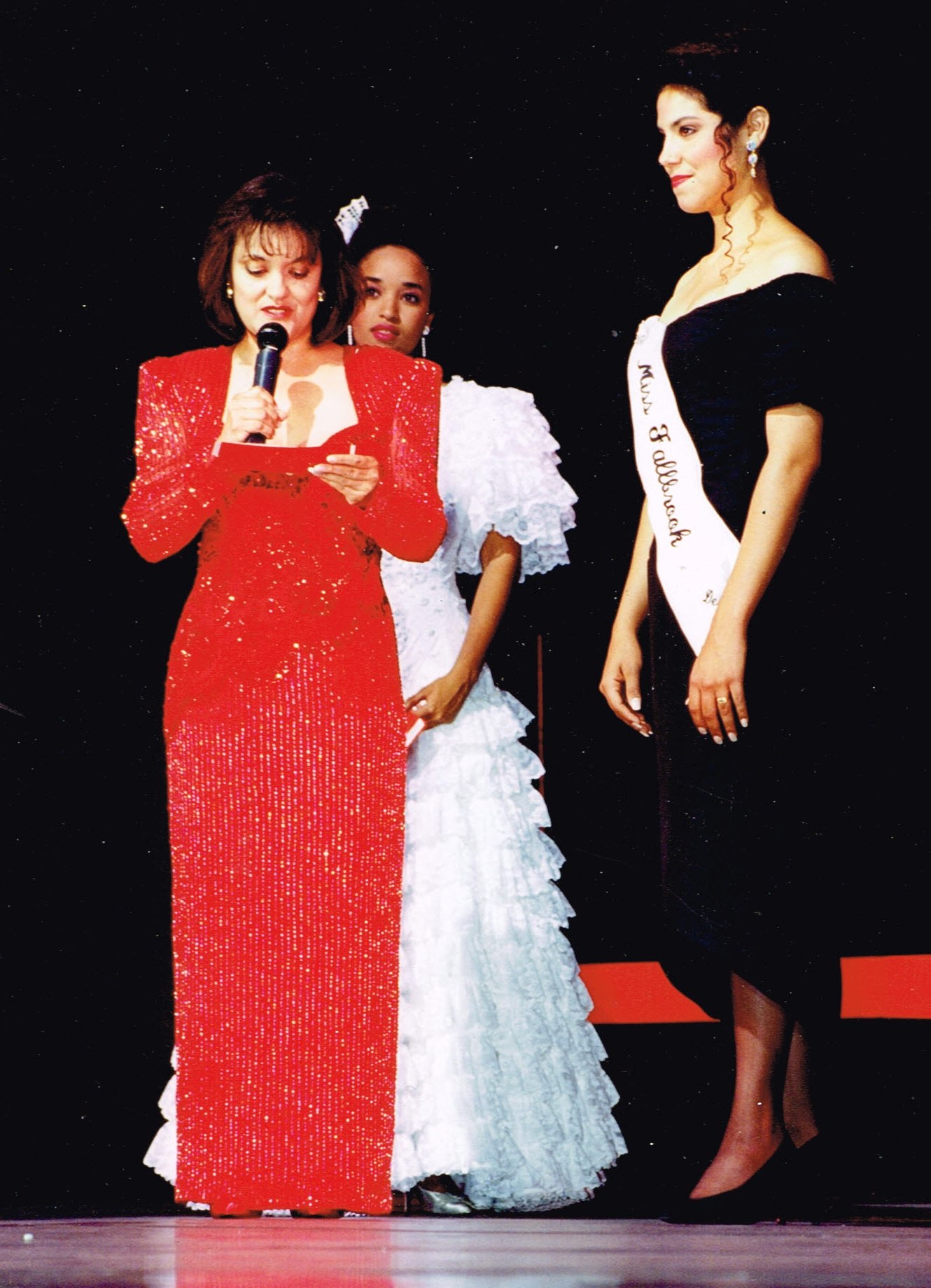 Below, I was given this beautiful crown as a thank-you gift for emceeing the Miss La Jolla Fairest of the Fair pageant.
On November 5, 1993, I was invited to be the Guest of Honor at the Recruit Training Command at the Naval Training Center (NTC) – this was the second to last graduating class before the Naval Training Center officially closed. It was an emotional day in which they also paid tribute to my father. Sadly, he was killed a year before this special event. My father graduated from NTC when he came to San Diego and joined the Navy in the 1940s.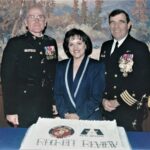 At a freeway opening, I was the emcee of this special event for Caltrans. Then-Senator Lucy Killea thanked me for my work as an air traffic reporter and for promoting safety in the air and the community. I was so honored by her remarks.
I was honored to be the emcee for the official opening of the Otay Mesa Border Crossing in 1983.
In the mid-80s, I was invited to speak to Chase Avenue Elementary in El Cajon students in this first photo. I talked to them about my job as an air traffic reporter and the importance of safety. I found this great sign in front of the school when I arrived. Wow-quite a welcome!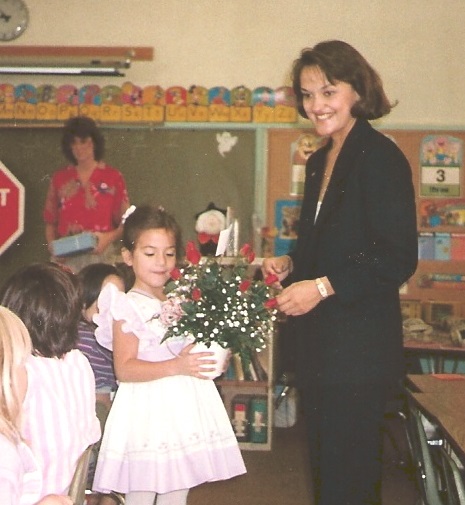 I was invited to the school by this young lady "Monica Ambrose." She presented me with these beautiful flowers as a thank you! She is now grown up with a beautiful family of her own.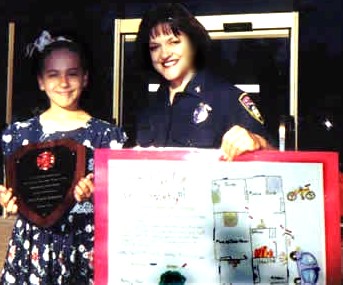 As part of my safety educator duties for the El Cajon Fire Department, I had the incredible opportunity to educate our young people on fire safety. One of my favorite events was the 3rd Grade Home Escape Plan Poster contest. Pictured here is one of our 1st Place winners. During my first year of talking to 3rd-grade classes about the importance of having a home escape plan, I'll never forget a comment from one of the students after my presentation. A young girl walked up to me while students were leaving the assembly and said proudly, "When I grow up, I want to be just like you!" I almost cried; I thanked her as she hugged me!" I knew then I had decided to leave my career in broadcasting and join the fire department. Additional duties included fire investigation, conducting fire inspections, and talking to the media.
Meeting some additional celebrities – 
While hosting a Cable Showed called "Outlook on the Physically Challenged" with co-host R. David Smith, we were given an award by actor Michael Landon.
I was a big fan of the TV show "CHIPS" – it was great meeting Erik Estrada.
It was also fun meeting Jerry Mathers "the Beav" from the old Television show "Leave It to Beaver."
And it was a treat meeting actor Mario Lopez from "Saved by the Bell."
*
*