E-Bike Information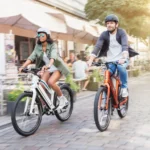 E-Bikes – Before Purchasing One, Or If You Already Have one – Safety Is Important!
While you can't control everything, adhering to some essential safety tips can increase your odds of having a safer ride. Let's take a look at this list of eBike safety tips that everyone should know:
9 eBike safety tips everyone should know – Bike.com
Helmets are a Must

…and More
E-Bike Laws in the State of California
Electric Bicycle Laws & Safety Tips
California Laws Regarding Electric Bicycles
An electric bicycle is not a motor vehicle, so license, registration, and insurance laws do not apply to electric bikes. In California, electric bikes are to be operated like standard bicycles, except that:
you must be at least 16 years old
you must wear a helmet at all times
Electric bike motors must have a power output of less than 1,000 watts and be incapable of going faster than 20 miles per hour on level ground. They also must be incapable of going faster than 20 miles per hour at top speed with the motor going AND the driver pedaling the bike.
The electric bicycle must be designed so that:
When the brakes are applied, the motor stops functioning, OR
The motor operates when a switch or mechanism is engaged, and when that switch or mechanism is released, the engine stops functioning.
Drinking and driving laws do apply to electric bicycles.
Electric bikes may not be used on dedicated bicycle paths unless they are within or adjacent to a roadway or are allowed by a government ordinance.
More laws may apply to electric bicycles, so check your city and county ordinances.
More Safety Tips for Electric Bicycles
Here are some safety tips for e-bike riders from electricbikereport.com:
ALWAYS wear a helmet

. No exceptions.
Make sure your bike has front and rear lights and reflective stickers.
Finally, wear bright, reflective clothing.
Install a horn so that motorists can see you coming. Bicyclists and even motorcycles can be quiet and easily lost in a motorist's blind spot.
Find safe routes – preferably less traveled roads and pathways that allow electric bikes.
Ride defensively. Don't assume anyone can see or hear you. Instead, anticipate what drivers and pedestrians might do and act accordingly. At the risk of seeming annoyed, beep your horn to let people know you're there. And remember, cars make mistakes, too – they don't always use their turn signals, so be alert, cautious, and prepare for the worst.
Beware of parked cars. As we saw above, even these can threaten e-bike riders. Besides, someone could open their car door as you pass or pull out of their parking spot without looking.
Look out for other bicyclists. They don't always light up at night or may dart out in front of you.
Let pedestrians know you're coming with an announcement of "On your left!" or a beep of the horn. Always slow down when approaching pedestrians.
Your bike wheels are unprepared for potholes or cracks, so slow down and avoid them.
Loose gravel, snow, and ice (not too big of a worry here in Orange County) and wetness can be risky too. So slow down, be cautious, and avoid those conditions if possible.
Let's prevent these unnecessary injuries and deaths from electric bike collisions. Be safe, e-bike riders!