The Critical Risks of Fentanyl Poisoning – It's Killing Kids/Teens
There's a growing crisis across the country, and most parents are still unaware of the dangers to their kids.
Fentanyl poisoning is killing kids — in every neighborhood and school.
There are too many stories in the news featuring young people killed by fentanyl poisoning. But, unfortunately, it's not just happening to kids you think are 'bad' or 'troubled.' It's happening in middle schools across America.
The Risks of Fentanyl Poisoning To Teens – NaturalHigh.org
The following link relates to the Fentanyl issue in a news story that occurred Friday evening, November 4, 2022. The responding officers had been trained to use NARCAN; without it, the two teens would have died.
https://abc7.com/los-angeles-sheriffs-department-teens-given-narcan-duarte-teenangers-rescued/12421348/
CDC – Centers for Disease Control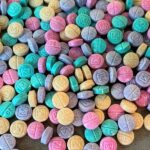 DEA Warns of Brightly-Colored Fentanyl Used to Target Young Americans
DEA Warns of Brightly-Colored Fentanyl Used to Target Young Americans