Our ubiquitous devices – cell phones – are not as innocuous as they seem. This comprehensive exploration into the science of cell phone addiction unveils a disturbing pattern: these devices, despite their numerous advantages, might be putting our lives in danger more than we realize.
Strategic Design Leading to Addiction Cell phones, as revealed by research, have been meticulously designed to foster addiction. By tapping into our inherent need for social connection, rewards, and constant stimulation, technologists have managed to capture our undivided attention. This addictive design has consequences, with driver distraction due to cell phone usage standing out as a particularly hazardous outcome. Findings show that the prevalence of cell phone distractions might be underestimated by a factor of up to 100 times.
High Volume Distractor: A Startling Reality In a shocking revelation, cell phone usage has emerged as the dominant "high volume" distractor. For context, during a 20-mile trip, drivers interact with their phones around nine times. This statistic underscores the urgent need for heightened public awareness and intervention.
Defining Cell Phone Addiction and its Consequences Cell phone addiction, or nomophobia, is a behavioral disorder marked by excessive mobile device use. It leads to sleep disturbances, increased stress and anxiety, and even physical ailments like neck pain. Most worryingly, this addiction amplifies the risk of vehicular accidents and fatalities.
Social Impact: The Decline of Real Connections Our addiction to cell phones affects our interpersonal relationships profoundly. 'Phubbing', or ignoring someone in favor of checking one's phone, diminishes the quality of personal interactions. This constant digital distraction fosters online relationships at the expense of real-world connections.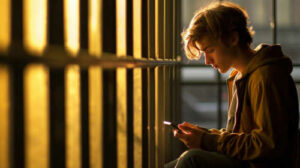 Health Hazards: More than Just Eye Strain From 'text neck' due to hunching over screens, to mental health issues like depression from excessive social media use, cell phones come with a host of health risks.
Combatting Technological Dependence To address cell phone addiction, a multipronged approach is vital. This involves digital detoxes, mindfulness exercises, and using software that limits screen time.
Managing Stress from Cell Phone Overuse Stress from cell phone overuse is real and can be managed. By setting limits on screen time, using the "Do Not Disturb" function, and practicing mindfulness, users can mitigate the harmful effects of over-reliance on these devices.
Setting Healthy Boundaries with Devices The key to managing cell phone addiction lies in setting firm boundaries. Limiting daily screen time, leveraging apps to track usage, and consciously designating tech-free hours can help restore a sense of balance in our digitally dominated lives.