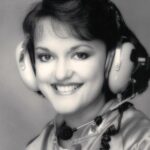 Monica's passion is "driving" safety.  Since 1984 she's been speaking on behalf of all those injured and killed in preventable collisions.  Her presentation is called "Stay Alert – Stay Alive!"
Broadcast Career:  Monica has been involved in broadcasting for more than thirty-five years. Her broadcasting career highlights; in 1971, she became the first female broadcast intern at KGTV, Ch. 10, from Crawford High School.   While attending Grossmont College she was hired as a news anchor for KITT Radio.  She went on to work for a variety of radio stations as a news anchor & reporter, including K105, KPOP/KGB/KCNN radio, KOGO, an all-news radio station in Portland, Oregon, then back to San Diego to work for KFMB Radio.
High Flying Career Change: Toward the end of 1983, Monica received a call from the Automobile Club of Southern California and asked to take on the position as their air traffic reporter.   In January of 1984 she became San Diego's first female airborne traffic reporter, and soon after – San Diego's first television traffic reporter for both the NBC and ABC local affiliates, and provide reports for some ten radio stations.  To prepare to take on this position, she started doing her own research on driving safety, riding with almost every law enforcement agency in the County, with fire crews, riding with paramedics, and observing trauma room activity at Mercy Hospital.  Monica also talked with traffic engineers at CALTRANS.   In working with CALTRANS they allowed the Auto Club to tap into their ramp metering system that gave traffic speeds on major freeways, this was a big help during rainy and foggy day when they were unable to fly.  Monica was honored when some of the CALTRANS engineers nicknamed the system the "MONICA" System -MONI – (Monitor) – CA – Congested Areas.   It was due to this research Monica saw the "crucial" need to add safety education tips to her traffic reports – and to begin lecturing on traffic safety in the community.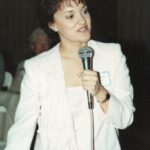 Driving Safety Becomes Her Passion:  Almost from the start of her traffic reporting career, Monica began delivering lectures on driving safety throughout San Diego, Los Angeles, and Riverside Counties, and in 2010 her talks became national when she was invited to speak to a high school in Miami, Florida.  Later came requests to speak in Lyndhurst, New Jersey, Petree, Wyoming, and Grand Ronde, Oregon.  Recognized for her dedication to safety, Monica has received numerous news, safety and community service awards. (See her awards section)  Although Monica enjoyed her work as a reporter, she most enjoyed her research and lectures in the community on transportation safety.   Her goal is to reduce the injury and death on our roadways.  Since the beginning, she has delivered these lectures on her own time,  using vacation hours, and speaking evenings and weekends.
Tragedy Hits Home: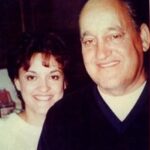 After eight years of safety lecturing, Monica's work in traffic safety took on an even deeper meaning, when on June 5th, 1992; her own father was struck and killed by a DUI driver.  On that Friday evening, just after 6:00 p.m., Monica's father was crossing at the corner of El Cajon Boulevard at Jessie Avenue in La Mesa. The investigation showed a vehicle stopped to allow her father to cross, but as he started to cross an approaching vehicle, driven by a 23-year-old DUI driver, went around to pass the stopped vehicle.  The DUI driver claimed he saw a man crossing the street but thought this man would stop walking to allow him to continue to drive through. But Monica's father was already in that second lane and the DUI driver, who should have stopped, struck and killed Monica's 63-year-old father.  The DUI driver had a blood-alcohol level of .16, twice over the legal limit and he was driving on a suspended license.   In the picture below is the vehicle that struck and killed Monica's father. The damage to the front windshield was caused by her father's head striking the windshield, an indentation to the left front end of the vehicle was where his upper body struck. His body was then thrown some twenty feet into the air coming down headfirst into the center median across the street crushing his skull and causing his fatal injuries.
Charges:  It was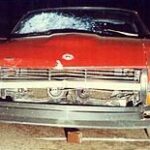 the driver's fourth DUI arrest, demonstrating a continued lack of respect for the law. It took her father to stop him – but it also took his life to do it.  From the first DUI, his license had been suspended and was driving without insurance coverage.  Despite his previous DUI record, he was sentenced to a mere four years in prison and after serving hardly a year and a half of his sentence he was released for good behavior.  But, Monica's father is still gone and very much missed by Monica and her family. His death became a part of Monica's lectures on the subject of DUI.  Although it's been 27 years since his death, talking about her father is painful, but it's important for Monica to take that pain and educate her audiences on how "precious" life is.  She also makes it very clear – she speaks in memory of all those killed and injured in preventable traffic collisions that happen every day.
New Career:  Following her broadcast career, Monica became the Public Information Officer and Fire Safety Specialist for a fire department in San Diego County, later becoming the City's PIO, from 2001 to 2019. By representing two EMS agencies (Fire & Police) she was able to provide safety education as a full-time career. In August of 2019, she retired from this position to dedicate her life to transportation safety through her life-saving lectures.
Lightning Strikes Twice:  Twelve years after her father's death, the DUI issue struck again.  On the evening of February 5th, 2005, Monica's then 24-year-old daughter Victoria, was struck broadside by a 17-year-old female, unlicensed, DUI driver.  Thanks to her daughter's alertness and quick actions behind the wheel, she was able to avoid a direct side impact into her driver's door.  The young lady did strike the front end of her daughter's car then fled the scene, thankfully she was arrested a couple of blocks away.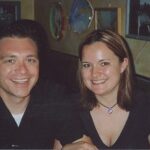 Victoria did suffer some minor injuries, and her vehicle sustained about $4,000 in damages. But, Monica is very thankful her daughter was able to avoid fatal injuries.  A year later she was able to see her daughter graduate from paramedic school and marry. Her daughter is now a Physician's Assistant.
Sadly, Monica meets many parents who are not so fortunate to see their children achieve their dreams.  Research shows many drivers, with suspended licenses from a DUI, continue to drive, often repeating the same driving behavior. That's why it's crucial we are always 100% alert behind the wheel and as a pedestrian.
Been There Done That:  Despite being a good, aware driver, Monica herself has been a victim of a few traffic collisions.  She's been hit three times by people on a cell phone, another incident was with a STOP sign runner.
Near Paralyzing Collision: 
On August 29th, 2003, Monica was on her way to a CHP office in El Cajon when a motorist ran the STOP sign at the bottom of the ramp from west 8 to East Main Street.  The driver ran the STOP by two car lengths and failing to look left, pulled directly into Monica's right of way.  Monica was able to slam on her brakes, leaving 22 feet of skid marks, striking the woman's back door.   Monica's quick reaction saved that driver's life, but Monica suffered serious injuries and was transported to a local hospital.  Doctors later discovered Monica would require neck surgery.  A few months later, just before Christmas Eve, she had neck surgery to repair the spine damage. Two surgeons, looking at her MRI's, said Monica should have been paralyzed by this crash.
Monica shares these real-life experiences and those she has seen in her work with police and fire.
Important Note: Stats show 40% of motorists drive without insurance, or limited insurance – so check your policy and make sure you have good "un-insured and under-insured" motorist coverage.  It's important to carry the highest amount possible to cover you and your passengers.  I know it's important to save money, but don't scrimp on your insurance.
For a professional and personal look at what it takes to be a "safe" driver for your school, group, military group or company please contact Monica Zech at (619) 219-9030, or email her at [email protected].
Buckle-up – and Stay Alert-Stay Alive!