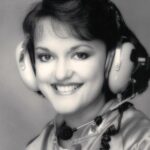 Monica Zech – Safe Driving Speaker 
A native San Diegan, Monica first began her career as a news reporter in 1974, but in 1984 she became San Diego's first female air traffic reporter & first Television traffic reporter for the Automobile Club of Southern California, later for Metro Networks. During her 18 years as a traffic reporter, she most enjoyed her work "off the air" in providing her safe driving talks in the community.
As Monica's passion for "safety" grew, in 2001, she decided to leave the world of broadcasting to become the Public Information Officer and Fire Safety Specialist (Inspector/Investigator) for an East County Fire Department.  In July of 2005, she became that City's Public Information Officer and continued to provide safety education until her retirement in August of 2019.  Monica will soon be adding virtual presentations!
Overall, "safe driving" continues to be Monica's passion & mission!   She enjoys her ongoing safety research working with first responders (police, firefighters, paramedics, and 9-1-1 dispatchers), the medical examiner's office, and a variety of safety organizations. 
It was due to this research that Monica quickly saw the crucial need to add safety education to her on-air traffic reports and to provide driving safety lectures in the community.  As a result, the demand for her talks spread to not only schools & colleges, but to major companies, and to military bases locally and now nationally!
Monica also loves speaking to driver education classes, traffic schools, and parenting classes.  Keep in mind, parents are the number one role models when it comes to safety – especially behind the wheel.  How you drive will reflect on how your children will drive.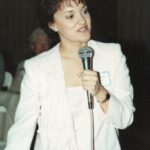 "Stay Alert – Stay Alive" lectures:  Among the top safety issues Monica addresses in her presentations;  the dangers of distracted driving – such as texting, aggressive driving, road rage. driving under the influence of alcohol and other drugs, motorcycle safety, and pedestrian safety.  Monica enjoys speaking to all age groups.
Personal Experience – A Victim's Perspective:  Not only does Monica cover safety education she also provides a victim's perspective. Sadly, on June 5th, 1992, Monica's work in traffic safety took on an even deeper meaning when her own father was struck and killed by a drunk driver as he legally crossed a street near their family home. He was only 63 years of age.
But, lightning can strike a family twice.  In February of 2005, Monica's then 25-year-old daughter was hit and injured by a 17-year-old unlicensed D.U.I. driver.   It was due to her daughters' alertness and quick reaction, she was able to avoid a direct side impact to her driver's side.   A year later her daughter became a paramedic and is now a Physician's Assistant. Yes, safety runs in the family!
Prior to her daughter's collision, on August 29, 2003, Monica was the victim of a STOP sign runner – a collision that surgeons said should have paralyzed her. Injuries from that collision resulted in neck and knee surgeries.   Monica shares her personal experiences but is quick to note she continues to speak on behalf of "all" those injured and killed in preventable crashes.
San Diego's "first" Television Air Traffic Reporter:   During Monica's early years as an Air Traffic Reporter it was quite an honor and accomplishment for her broadcast career to have the rare opportunity of delivering traffic and news coverage for two Television stations and ten radio stations during morning and afternoon commutes.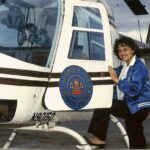 Award-Winning:  In that first year of reporting from the air, Monica was the first airborne reporter on the scene for the San Ysidro McDonalds massacre. She reported non-stop, for an hour and 45 minutes, until SWAT Team snipers fired the last shot that ended the siege.  She received a Golden Mike and two San Diego Press Club awards for her reporting.  This was followed by numerous safety awards. (See her awards section on this website.)
Monica's dedication to safety has been recognized by others in the community.  In 1995, Monica was asked by then San Diego Mayor Susan Golding to be a member of the Mayor's Transportation Demand Appeals Board.
Research: In 1998, Monica's work was recognized nationally when she received a call from the National Highway Traffic Safety Administration in Washington D.C. to help as a consultant, researcher and educator on a committee to address the growing problem of "aggressive driving & road rage."  Working with San Diego State University, Monica began educating her audiences on ways to reduce the stress of driving – and how to deal with "road rage."  She also addressed the problem of "Red Light Running" and the essential need for "RED Light Photo Enforcement cameras."  Recognizing her efforts, the National Campaign Against Red Light Running, in Washington D.C., named Monica their San Diego spokesperson in 2001.
For more than 36 years (since 1984) Monica has been delivering her life-saving messages!
Contact:  If you would like to arrange for an inspiring safe driving presentation, or have additional questions, please contact her directly at (619) 219-9030, or by email: [email protected]