I deliver powerful, eye-opening presentations on what it takes to be safe on our roadways, whether you are driving, riding or walking.   You'll see why traffic collisions continue to be our number one 9-1-1 call in EMS.  This new awareness will help you to avoid (or stop) bad driving habits, helping to "reduce" your collision risk factor – making you a better – more alert driver and pedestrian!
Companies: My talks are excellent for companies looking to reinforce their company safe driving policies for employees driving company vehicles – such as no texting or other cell phone use while driving.  An excellent compliment to other safe driving programs offered at the workplace.   But, I take the place of two speakers, providing professional advice on safe driving habits – and speaking as a victim.   I've had personal experience with many of the major issues I cover.
Military:  I offer a hard hitting talk delivered for your safety stand-downs, especially prior to the holidays. Emphasizing the dangers and impact of driving under the influence of alcohol and other drugs, driving distracted (texting) and the dangers of riding motorcycles.  Please note: My speakers fee is waived for military talks delivered within San Diego and Los Angeles County.  Outside these areas – travel expenses are requested.
For my talks at the high school in Miami, Florida, I was asked to target "distracted driving." My presentation was such a hit with students they called their parents and insisted they attend my second presentation for parents later that evening.  It was standing room only!  Below is the banner they had made for me in preparation for my talk.
In arranging for my presentation to your group or class, I can target specific issues by request.  To suit your needs, my talks can range from 20 minutes, up to 3 hours or more, for your company conference, military safety stand-down.  I continually update my talks with the latest stats, pictures and videos to help drive home the message.
Audiences will see what causes traffic collisions through my perspective as; a spokesperson for both a police and fire department, as a veteran air traffic reporter for local television and radio, and through research, working with crash scene investigators, the Medical Examiner's Office, and with several National Safety organizations.  I offer life-saving advice on what it takes to be safe on our roadways – increasing your chance of survival.
Some of the areas covered in her talks:
Distracted driving

– texting, cellphones and more!  Addressing company "cell phone" policies.

Dangers of driving under the influence (DUI)

 of alcohol and other drugs.
Motorcycle safety.
Stress & Road Rage – how to curb the rage
Aggressive Driving – examples.
Red Light Runners & Red Light Photo Enforcement – examples.
The Dangers of Rolling through STOP Signs – examples.
The dynamics of a crash – what are the major factors that cause injury & death in crashes.
The importance of obeying traffic laws made for our safety.
The importance of wearing seat belts.
Types of crashes – rollover, side impact, rear-ender etc.
Car Seat Safety – Remember your precious cargo!
Dangers of  Speeding
Who are you riding with?
Pedestrian Safety
Being a GOOD safety model for your family – (A must for Parenting groups)
Personal Impact Stories: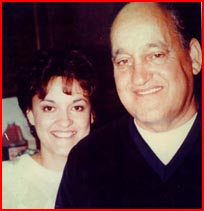 Losing my father (Pictured here) to a DUI driver in June of 1992.
My daughter injured in collision involving a DUI driver in February of 2005.
I was the victim of a STOP sign runner in August of 2003, that crash almost paralyzed me.
Twice I've been hit by people talking and another texting on their cell phones.
I speak on behalf of ALL those killed and injured in crashes

everyday!
Note:  For references please see the comment section of this website to see audience feedback from Monica's previous talks.  Additional references offered by request.
*Again,  I deliver most of my talks in the San Diego County area of Southern California, but I am also available to speak outside the city & state "by request!"  Please email your request to monica1696@att.net – or call me direct at (619) 219-9030.  
Please note:  Although most of my talks are in San Diego, Los Angeles and Riverside Counties, I do speak outside the state by request.  In the last few years I've delivered talks in Los Angeles, Riverside, El Centro, Rhode Island, Wyoming, Miami, Florida, and in Lyndhurst, New Jersey.
*For my speakers fee, please visit the "CONTACT" section located on the top bar, located on the opening page of this website.